10 Stomach Ulcer Symptoms
Stomach ulcers, also called gastric ulcers, are open sores that form in the lining of the stomach. When similar sores form in the walls of the upper part of the duodenum, they are called duodenal ulcers. Collectively, stomach and duodenal ulcers are known as peptic ulcers.
Globally, it is estimated that 10 percent of adults are affected by stomach ulcers at some point in their lifetimes. According to the American Academy of Family Physicians, the condition is more common in person's aged between 25 and 64 years 1.
Some of the contributing factors in the development of stomach ulcers include Helicobacter pylori bacteria, long-term use of aspirin and other nonsteroidal anti-inflammatory drugs, alcohol, caffeine, and tobacco smoking. Stress and radiation therapy may also lead to stomach ulcers. If you have some of the following 10 stomach ulcer symptoms, you need to go for testing and treatment.
Symptom #1: Abdominal Pain
Abdominal pain is one of the most common stomach ulcer symptoms. Abdominal pain caused by a stomach ulcer occurs in the upper part of the abdomen, above the belly button. The pain is usually dull in the beginning, and may occur in waves. However, as the ulcer grows larger, the pain becomes more intense.
In some people, abdominal pain due to stomach ulcers is usually worse when the stomach is empty, especially between meals and at night. This is because gastric acid in the stomach gets to the ulcer a lot easier in the absence of food in the stomach. Consequently, abdominal pain goes away or lessens after having a meal. In other people, stomach pain actually increases while eating.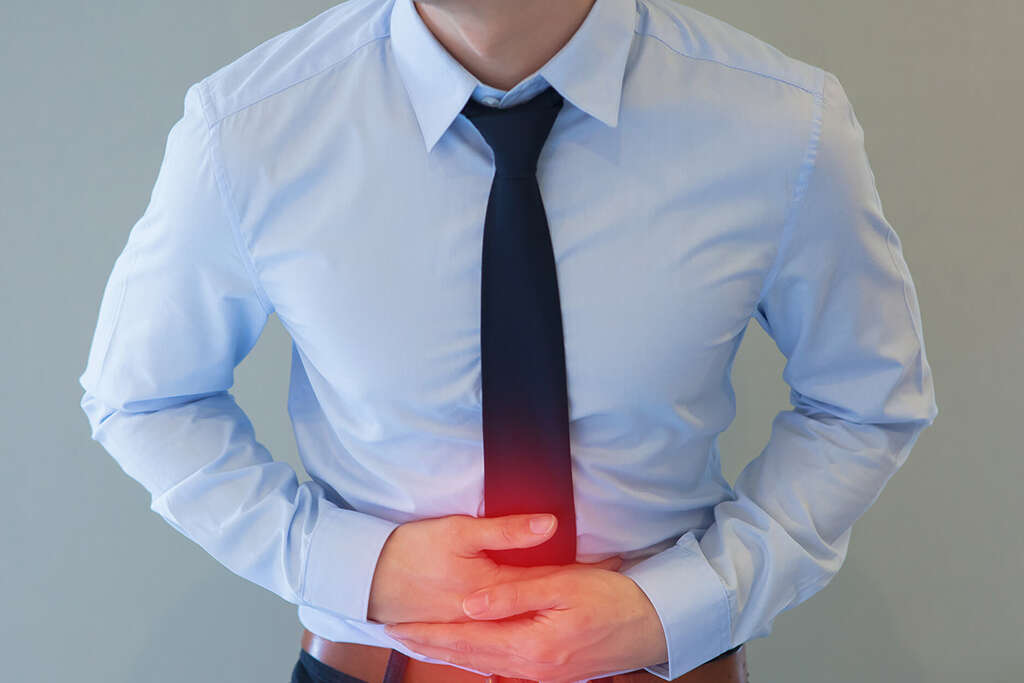 http://www.nhs.uk/Conditions/peptic-ulcer/Pages/Introduction.aspx ↩